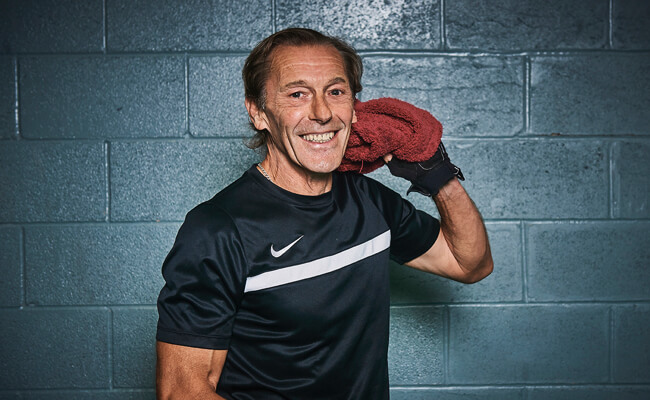 The Helio team are great, they understood my health issues from the get go.
This helped me persevere through my training, without overworking my body. Two years on I'm stronger than ever and still do my personal training sessions – they've become a part of my life.
When I joined I was a 15 stone weakling with low muscle strength – now I'm an 11 and a half stone man with a body I never even dreamt of having! Through regular exercise I've got more energy and definitely improved my overall health. I've lost more than 3 stone and definitely gained some friends for life along the way.
After starting here two years ago I've seen an impact on my health.
Not only am I a slimmer, fitter version of myself, I don't expect to be going anywhere anytime soon and I reckon I've added years to my life. I've set myself a further target of becoming the healthiest version of myself, as I already feel better than I did in my thirties – let's keep going!
I first got to know Gary as a regular morning member of the gym, and eventually he started attending some of my classes on Monday and Wednesday mornings. His target was to get fit after a bad illness a few years back. His sister contacted me about buying him Personal Training sessions for his birthday, and we went and booked 6 x 1 hour sessions. After a chat we came to the conclusion that his main goals were to maintain his new found fitness, and work on increasing it even further. Gary also wanted to use the sessions to learn new training techniques and systems whilst also honing his current form and technique. Gary was great to train as he always showed massive interest and motivation. It can't be underestimated how much this actually helps a PT! The plan was, and I hope still is, to do further sessions in the future and progress on the things learnt and worked on together so far.
How he did it
I chose Helio because I had heard of the great reputation of the personal trainers and knew if I was going to get in better shape I needed to do it in a safe environment with the support of experts so not to overexert myself.
When I joined Helio I had a clear goal in mind, to improve the quality of my life. I achieved my goal through personal training sessions and classes at the gym and now I'm onto my next challenge, continuing to be in better shape than I was in my thirties!
Cardiovascular Endurance
0